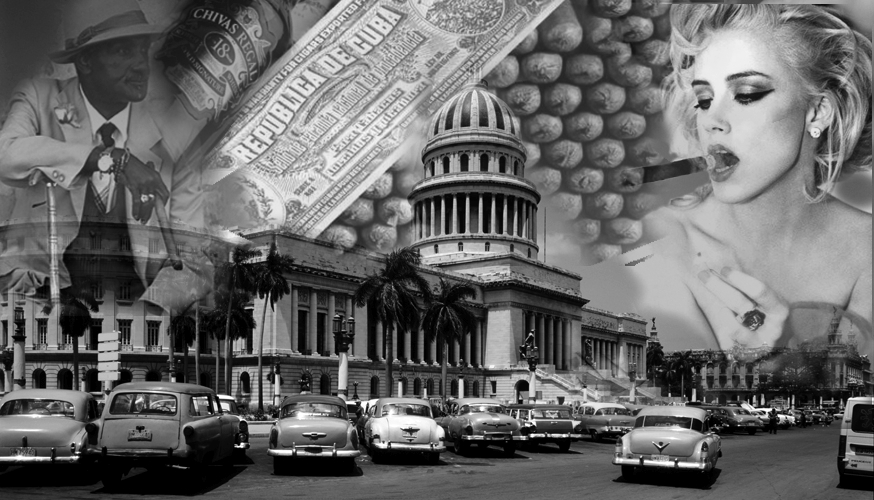 How Finest Cigars Changed My Life!
For weeks I wondered who she was, that mysterious lady whose long silhouette I had often seen propped against the backdrop of the beautiful Habana sundown, exuding sophistication on the sidewalk (Malecon) smoking a fine cigar. It was always around the time when heat subsided that young and young-in-spirit would venture to leave their homes for a short walk by the beach. But of all the people, it was her I could not take my eyes from. Her looks certainly called on everyone's attention While myself and all the others were wearing tight shorts and loose T-shirts with flips or tennis shoes, she was always wearing long silken robes that gave her a Hollywood flair. She also knew how to walk and it certainly added to her mystique. She was that kind of people that had led wonderful lives and that now had fascinating stories to tell, now living among us, around the best places of this World, yet nothing would prepare me for what I would learn about and from this Cuban Lady Little did I know that this woman who I had often casually encountered and who lived blocks from me was a living legend and had led an exciting and glamorous life, and had invaluable advice to share. Much less would I imagine that I would befriend her and to what extent she would influence me and lead me into a new path. This is the story of how I met Lalin Frances and got into the Cuban Cigars Industry. My name is Marilyn Spencer, my parents have Italian, French & Argentinean influences. We traveled so much as a family until I started to travel by myself and in one of my favorite trips I was curious to meet wonderful Smokers and all successful people from all over the world congregate to have a good time enjoying a Great Cigar. In cities where the eccentric and the eclectic people settle down, rich and famous have a second home. Not surprisingly, this is where I met Lalin and found my calling. I remember that day. It was a fine afternoon, the light gave a sensual tinge to everything and the sea was calm and looked enticing. There she was, that lady again. Slowly enjoying a cigar and looking towards the horizon in a way that no one else did, at the same time longing and reigning in her surroundings. I wouldn't let this opportunity slip away… This time I decided to surmount my shyness and break the ice with a casual comment or question, it was certainly worth it. I approached her casually, also looking at the water. She gracefully turned towards me and smiled. I smiled back. This was my chance. She said_ It is a nice afternoon, isn't it?- I asked self-conscious about my accent and perhaps even embarrassed of by the obviously inexperienced way I carried myself, which stood in sharp contrast with her European- looking charm and manners. As fine as they get. – She said graciously. Silence followed and I felt odd, but then I noticed that she was simply pacing herself, the way actresses did in the golden era of film. She continued: people come from all over the world to experience this weather and this peace. There is nothing more attractive in the world these days. This is paradise. have you traveled a lot? I asked, almost interrupting her. I've been everywhere. I used to be a performer. I retired five years ago, at the age of fifty-three. It certainly explained her fine figure, she looked like someone who was in her mid-forties I understood then I had just lifted the lid from a Pandora's box. Her stage name was Lalin Frances, she was a world-famous dancer and performer from the 1950s to the early 1980's. Having left Cuba to travel the world with her talents, she had gone to such far-off places as Japan, Greece, Germany, France, and New Zealand. She had lived in Mexico, Venezuela, Brazil, Italy, and Sweden. She had rubbed elbows with Spanish and Belgian Magnates. She had been courted by King Farouk of Egypt, who had given her a twenty-thousand-dollar emerald pendant as a gift after watching one of her performances in London. This was fascinating. I had just met the 'Cuban Marilyn'. My life would forever be changed. That day we parted shortly afterward, but a few days later we met again and, after a small chat, she invited me over to her home for some coffee. Her house was a cornucopia of fine smell: coffee, cigars, and sweet rum. It was a large, colonial-style home decorated with lots of natural accents like plants, flowers, and handmade baskets. I suddenly felt as if I was in a Cuban Countryside. While she lit a new cigar drawn from a box that read Montecristo I made sure to ask her to tell me more about how her Cuban past and her cosmopolitan lifestyle combined, what triggered her love for cigars, and how had she managed to remain herself while impersonating a stage character and visiting so many different places. -I traveled so much in my life that I was always amongst people of all races and cultures, with all sort of accents and customs, I realized soon enough that I needed something that would connect me to my essence and roots. Cigars were an obvious choice. I was born in Province of Pinar del Rio, in a family with a long cigar-making tradition. I always make sure to carry Cuban Cigars with me. Cigars to me equate the love for home and the land. The more I longed to be genuine, the more I needed to insist on genuine taste in everything. This 'snack' always took me back to the great moments of my life. She spoke softly and proudly. Her fascinating accounts caused me too soon develop an interest in Cuba and specifically in cigars. I was soon learning new tricks from this well-traveled, well-dressed lady, including how and what to smoke. I learned the names and characteristics of such brands as Cohiba and Bolivar, and the singularities of the people and the land where they came from. She taught me to be bold and remain young through daily habits: to always be focused and know what I want, to keep beautiful surroundings, dress tastefully, and be in tune with my own needs and passions. It was in her suggestions where I found inspiration for what was to become a hobby at first, an occupation later on, and finally a pleasant obsession. At the beginning it seemed cigar-smoking would just become something I would do in my spare time, a pleasure I would enjoy in good company, but in reality, my passion for its Genuine Rich Taste outgrow that time-frame and context, and became a symbol of all I wanted in business and in life: a product and activity that was not based on looks alone but with substance and that would enable both women and men to be at ease yet daring in a relaxing atmosphere. I had found it. I set out to become self-assertive and started to build an appreciation for the finest things. I trained myself to discern the new trends while keeping my eyes on tradition. In several scouting trips to Cuba, the Dominican Republic, as well as other destination in the Caribbean, I discovered the secrets of choosing and buying the best Cuban Cigars and the rituals of their proper enjoyment. It was now obvious to me that this pleasure once only available to Celebrities, Politicians and Magnates could now be offered to a wider yet selective public. Since then, I was determined to find promote the Finest Handmade Cuban Cigars of the Caribbean lands offering without it sacrificing any of times past in the cozy, smoke-filled rooms of today. I was ready to create my own destiny and affect the future of thousands of new
Cigars Aficionados
. There had been no coincidences, one thing had brought me to another to feel how Cuban Cigars had changed my life. Since then I've been striving for excellence in everything I do, in all of my choices. That's why I created
Cuban Cigar Online
, a company steeped in memories from a Golden Era with the goal of bringing back World-Class Sophistication and Caribbean Flavor and all that, it represents, in a Modern-Life
Cuban Cigars Store.
Thank you for your time to meet the Founder. I hope you enjoy the best Cuban Cigars with us. Kindness regards, Marilyn Spencer